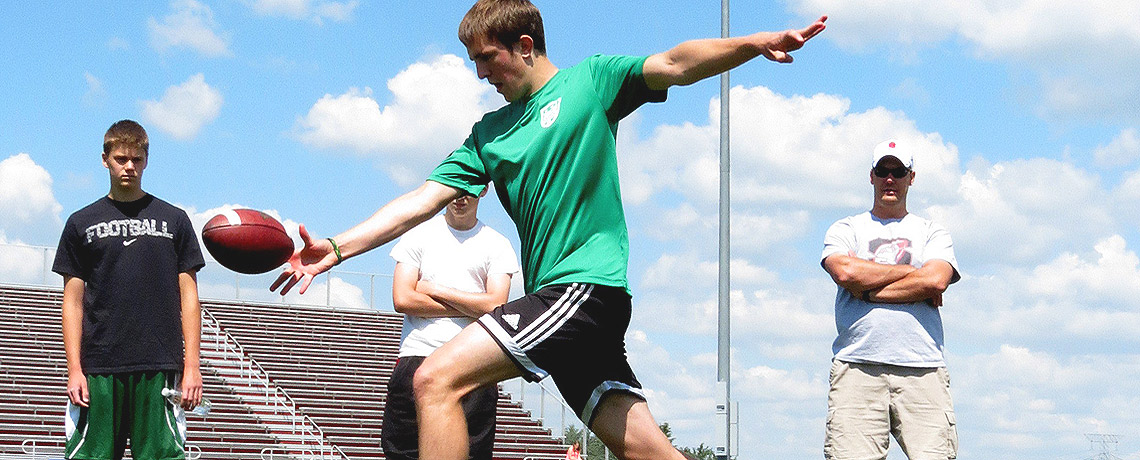 GENERAL INFORMATION ABOUT SPECIAL TEAMS FOOTBALL ACADEMY
To see a list of our upcoming events, click here.
Special Teams Football Academy runs a number of Camps year around.  Camps vary from Instructional Camps, Season Prep, and Showcase & Evaluation Camps.  Our camps are great opportunities to fine tune your mechanics, learn drills and help prepare you for your upcoming season.
* Our Instructional Camps are geared for working on basic fundamentals, advanced techniques and new drills that you can can use during off season training.
* Our Season Prep Camp is a camp run right before your season starts and is geared for your upcoming season.  It's available to athletes in High School, Youth, College, and Free Agent athletes.
* Our NCS Evaluation Camps are evaluation camps where your athlete will be run through standardized Field Goal, KickOff, Punting or Snapping Charts, that are used across the US.  It's like an ACT Test for specialists. These camps are open to rising 6th-12th graders.  Your athlete will receive a Profile, Bio and Chart that will be posted on the National Camp Series website.
This camp can be a great way to showcase your abilities/improvements and to send out the results to college coaches for potential scholarship opportunities by your Junior and Senior years.  You will be ranked amongst your peers locally and nationally.  A FREE 90 minute clinic will follow the evaluation for all NCS participants.  For more information, check out NationalCampSeries.com.