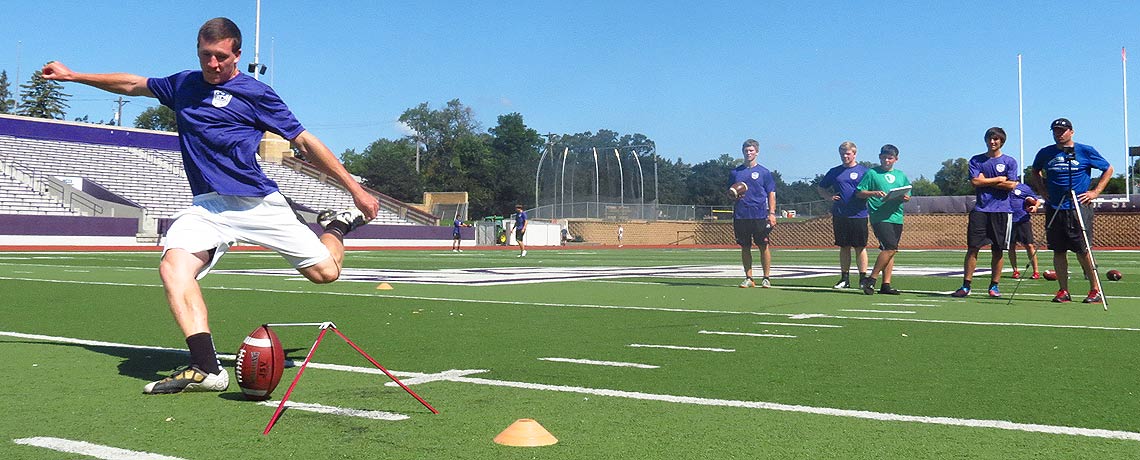 SPECIAL TEAMS FOOTBALL ACADEMY AND THE NCS
The National Camp Series (NCS) is a nationwide network of expert kicking coaches with NFL and College level playing experience. Our goal is to provide effective instruction on the field and guidance off of the field that will allow student-athletes the ability to leverage their sport to get a college education.
The NCS Network works together, shares resources and assists in helping each other's athletes to play at the college level by utilizing our connections with college coaches.
We are the only group that provides local kicking resources for consistent training and purely rates you OBJECTIVELY based off your results using our innovative KIX Rating System.
The National Kicking Camp Series was created by former NFL Kicker Michael Husted. After a successful 10 Year NFL career, decided to take all of the knowledge and experience that he gained and put it to use for all high school kickers, punters and long snappers.
The Kicking Game is 90% mental. "Can YOU do it when the pressure is on."
The biggest difference between being successful at each level is the ability to perform under pressure. The Kicking Game has become so important over the last couple of years, that there is great emphasis on specialists to perform on a consistent basis.
Our platform offers specialists multiple events to help them:
See how they stack up against others across the country
Demonstrate to colleges their ability to play at the next level
Learn how to perform under pressure
The National Camp Series consists of a team of the most highly respected kicking coaches in the country. This is a huge benefit to you! By leveraging our team of coach's knowledge and contacts we are able to give you better evaluations and market you to a very broad network of college coaches. Basically, you will have our entire team of coaches working for you to find you a college. This is why we use the 'team approach' to the National Camp Series.
The experience that you get through the NCS will prepare you for the next level.
The National Camp series offers kickers, punters and long snappers a unique opportunity to showcase their talents in four separate divisions based on your grade level for the fall of 2011.
College (Upcoming Seniors, College Transfers, Junior College and College Eligible)
Varsity (Upcoming 11th grade)
Jr. Varsity (Upcoming 10th grade)
Freshman (Upcoming 9th grade)
Middle School (8th grade and younger)
HOW OUR EVENT DIFFERS
Half day camp that includes an official evaluation using NCS' objective and proprietary Kicking IndeX (KIX) 

Player Rating System with charting in Field Goals, Kick Offs, Punts and Long Snapping

Last man standing competition based on Upper and Under Classmen Divisions

Custom NCS medals for competition winners

Optional filming available for charting session $100.00

FREE NCS player profile –

Click here for an example

Competitively priced
Conveniently located regional events where there is less time and expense spent associated with travel
Proven operational format minimizes down time and improves efficiency
Events will be hosted by the top kicking experts in the country connecting you with the best coaches in your area
Developed by NFL kickers who know what it takes; their NFL credentials will ensure interests from college programs of all levels
Regional events are hosted year round. Super Camp held once a year in February. Dates and times and sign-up information can be found under our CAMPS TAB or at NationalCampSeries.com!
Interested in Hosting a Camp?  Please contact Coach Chris Husby at CoachHusby@gmail.com