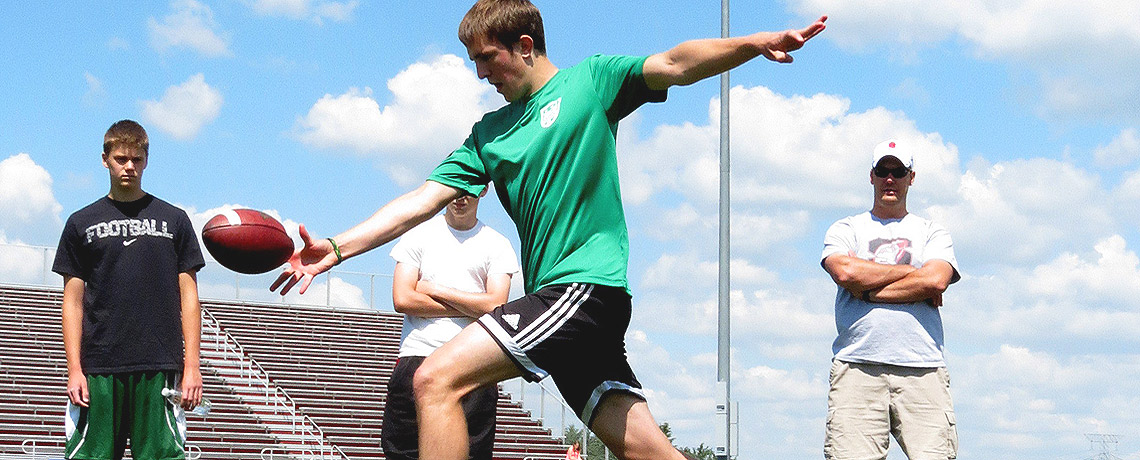 ABOUT SPECIAL TEAMS FOOTBALL ACADEMY CAMPS
To see a list of our upcoming events, please click here.
Special Teams Football Academy runs a number of Camps year around.  Camps vary from Instructional Camps, Season Prep, and Showcase & Evaluation Camps.  Our camps are great opportunities to fine tune your mechanics and learn drills to help you prepare upcoming season.
* Our Instructional Camps are geared for working on basic fundamentals, advanced techniques and drills that your son/daughter can use and train with during the summer.
* Our Development Camps is a camp run right before your season starts and is geared for your upcoming season.  It's available to athletes in High School, Middle School, College, and Free Agent athletes.
* Our NCS Evaluation Camps are evaluation camps where your athlete will be run through a standardized Field Goal, Kick Off, Punting or Snapping Charts, that is used across the US.  It's like an ACT Test for specialists. These camps are open to Upcoming 6th-12th graders.  Your child will get a Profile, Bio and Chart that will be posted on the NCS page.
It can be a great way to showcase your abilities/improvements and to send out to college coaches for potential scholarship opportunities by your Junior and Senior years.  You will get ranked amongst your peers locally and nationally.  A FREE 90 minute clinic will follow the evaluation for all NCS participants.  For more information, check out NationalCampSeries.com